For patients who have lost one or more teeth, Dr. Kenneth Nash coordinates placement and restoration of dental implants at our Vicksburg office. Dental implants are titanium posts that are surgically implanted in the jaw bone to replace lost tooth roots and provide the ultimate support for crowns and dentures. Don't suffer any longer with a compromised smile. To find out if dental implants might be right for you, contact our office today and schedule an appointment with Dr. Nash.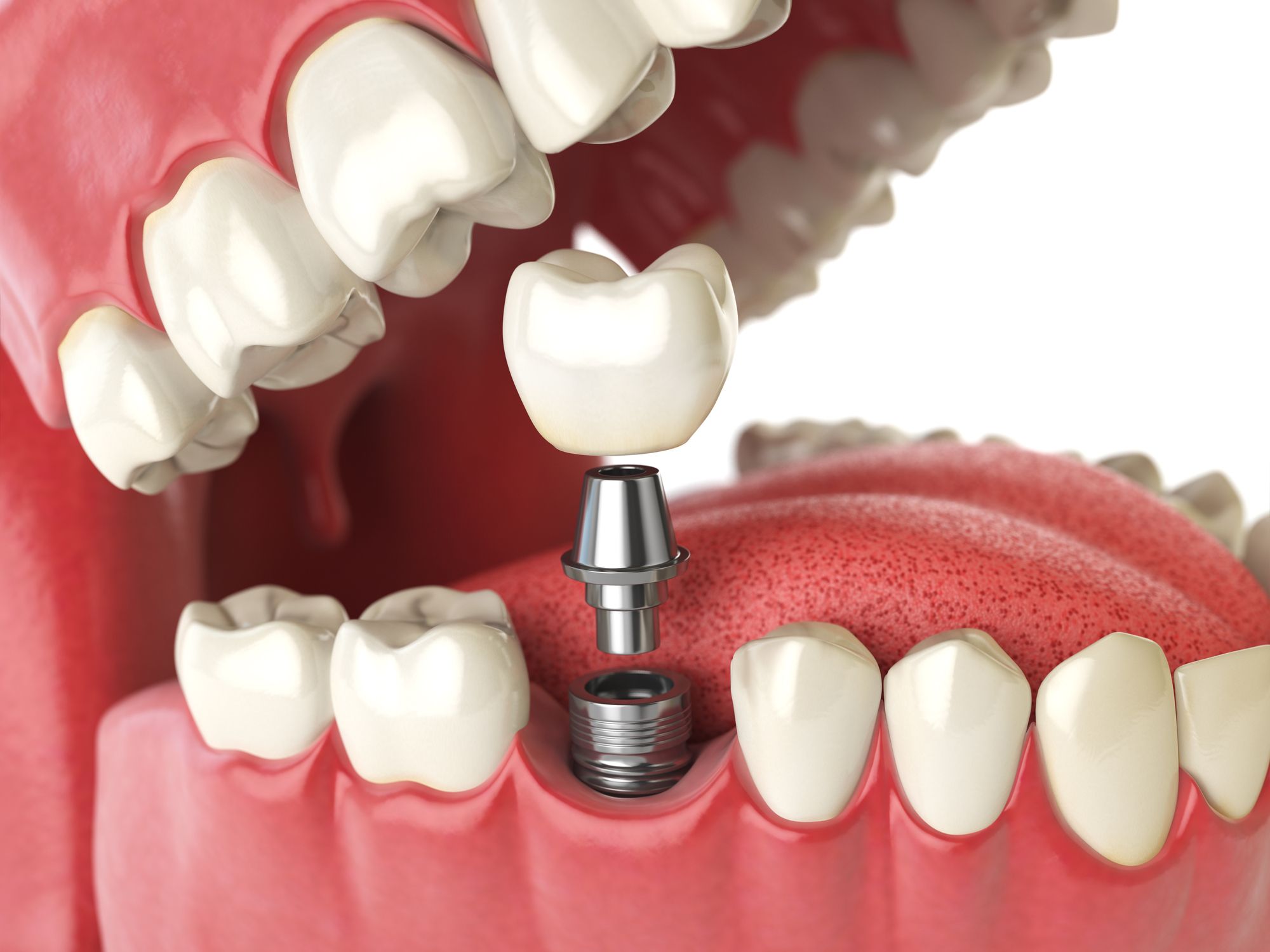 Dental Implants: The Basics
Dental implants become permanently fused with the jaw bone to create a stable, permanent foundation for crowns, bridges, or dentures. They can be used to replace a single missing tooth, or to restore the entire upper and lower arches.
Traditional implants are 3.5 to 6 millimeters in diameter, and require healthy bone density prior to surgery. Following tooth loss, the jaw will begin to atrophy, or shrink. Therefore, if you lose a tooth, it is important to consider restoring it with a dental implant right away. However, if you have waited to address a missing tooth and have experienced some jaw atrophy, a bone graft can restore the necessary bone mass to support a traditional implant. If traditional implants are determined to be the best solution for you, Dr. Nash will refer you to a trusted oral surgeon who will place the implant, and he will oversee the restoration following surgery. Traditional implants require at least two surgeries with about three to six months of healing time.
Mini implants are only 1.8 to 3 millimeters in diameter. If you have experienced some bone atrophy, mini implants can sometimes be placed without the need for a graft. Dr. Nash places mini implants himself, and can often restore them immediately following placement.
All-on-4® implants are a special treatment using just four implants that are strategically placed on the upper or lower arch to immediately anchor a full denture. Dr. Nash can restore traditional and All-on-4® implants, and he works with a respected oral surgeon who can place these types of implants.
Restorations
For crowns and bridges, Dr. Nash prefers BruxZir® Solid Zirconia and e.max®, materials that are renowned for their strength and natural look. Both BruxZir® Solid Zirconia and e.max® are chip- and stain-resistant. During your consultation, Dr. Nash will help determine which kind of restoration is best for you.
Restorations can be created in two to three weeks. Dr. Nash can take a digital impression of your implant and surrounding teeth, and technicians at a trusted offsite lab will use this information to create restorations that fit your smile precisely. We can provide temporary restorations in the meantime. If you are receiving All-on-4® implants, it may be possible to alter your current dentures to fit your implants.
Learn More about Dental Implants
A compromised smile can take a significant toll on your quality of life, but dental implants can restore the comfort, balance, and function you deserve. If you would like to learn more about dental implants, contact our office today to schedule a consultation with Dr. Nash.