If you are missing most or all of your teeth, implant-supported dentures provide a secure and comfortable way to restore your smile. Dental implants are small titanium posts that can support a range of restorations, including full and partial dentures. The posts are embedded in your jawbone and act as artificial tooth roots for prosthetics. At Nash Family Dentistry in Vicksburg, MS, Dr. Kenneth Nash and Dr. Jonathan Nash can coordinate implant placement and restore implant posts with lifelike dentures designed specifically for your smile.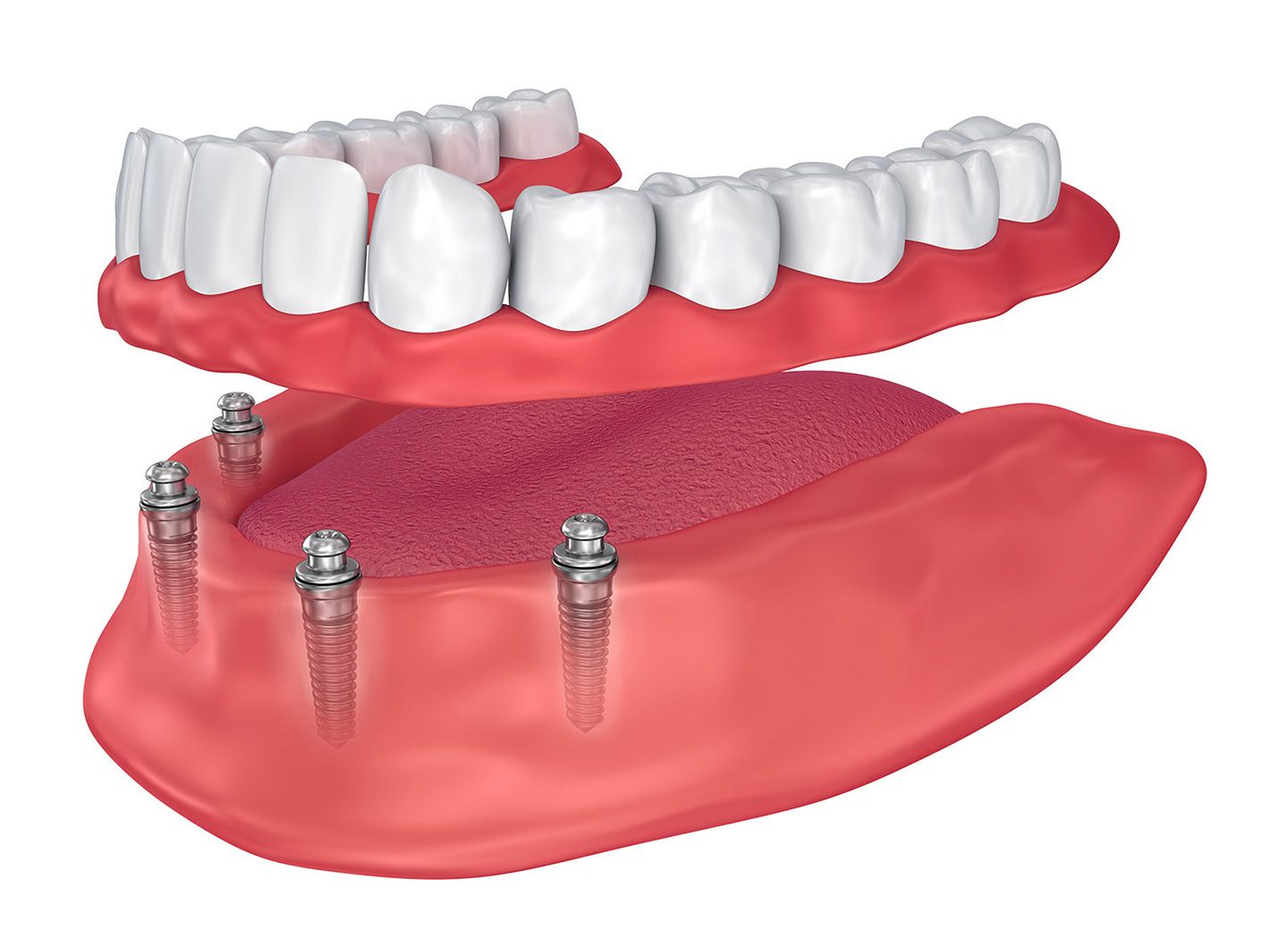 The Implant Advantage
Implant-supported dentures are more stable than traditional removable restorations. A traditional denture rests directly on the gum tissue and is held in place by dental adhesive. In contrast, implant-supported dentures attach to implants embedded in the jawbone. This connection means implant-supported restorations do not slip out of place while you are eating, speaking, or smiling.
Implant-supported dentures function and feel like natural teeth, allowing you to enjoy all your favorite foods without worrying about dietary restrictions. In addition, dental implants act as artificial tooth roots and stimulate the jaw to prevent the bone atrophy commonly associated with tooth loss. Dr. Kenneth or Johnathan Nash can discuss additional benefits of dental implants with you and assess your candidacy for this advanced treatment option.
Who Is a Candidate for Implant-Supported Dentures?
To qualify for an implant-supported restoration, you must have sufficient jawbone tissue and be in good oral and overall health. Underlying issues such as periodontal disease must be addressed prior to implant placement.
Dental implants rely on the surrounding bone tissue for support, so it is important that you have a strong jawbone. If you have experienced deterioration in your jaw, a bone grafting procedure can restore the bone density and create a stable base for your implants. Dr. Nash take x-rays and scans of your jaw to identify any areas of bone loss and recommend appropriate treatment.
A Typical Treatment Timeline
Your first step in receiving a life-changing implant-supported denture is a consultation at our office. Dr. Nash can examine your oral health and refer you to a reputable oral surgeon to place your implants.
With an implant-supported denture, you can experience superior comfort and function after tooth loss.
During the procedure, your surgeon will make a small incision in your gum tissue to access the underlying bone. Then, they will place four to eight implant posts in your jaw before closing the incisions with sutures. Over the next three to six months, the posts will fuse with the surrounding tissue and become a permanent part of your anatomy.
Once your posts are healed, you can return to our office to receive your full restoration. Depending on your needs, Dr. Nash can provide fixed or removable dentures. All of our restorations are crafted from high-quality material that mimics the qualities of natural teeth.
Rebuild Your Smile
At Nash Family Dentistry, we are committed to providing the best solutions available to our patients. Dental implants are the gold standard in tooth replacement solutions. With an implant-supported denture, you can experience superior comfort and function after tooth loss. For more information about dental implants or our other restorative procedures, contact our office online or call (601) 634-1812 to speak to a member of our team today.