If you have cracks, chips, or dental discoloration, porcelain veneers can dramatically improve the appearance of your smile. Porcelain veneers are wafer-thin shells that cover the surface of teeth and conceal imperfections beneath. At Nash Family Dentistry in Vicksburg, MS, Dr. Kenneth Nash and Dr. Jonathan Nash offer traditional veneers and Lumineers® to meet their patients' various needs. Lumineers are a minimal-prep alternative to traditional veneers and require little to no alteration of natural teeth. As a result, Lumineers treatment is reversible.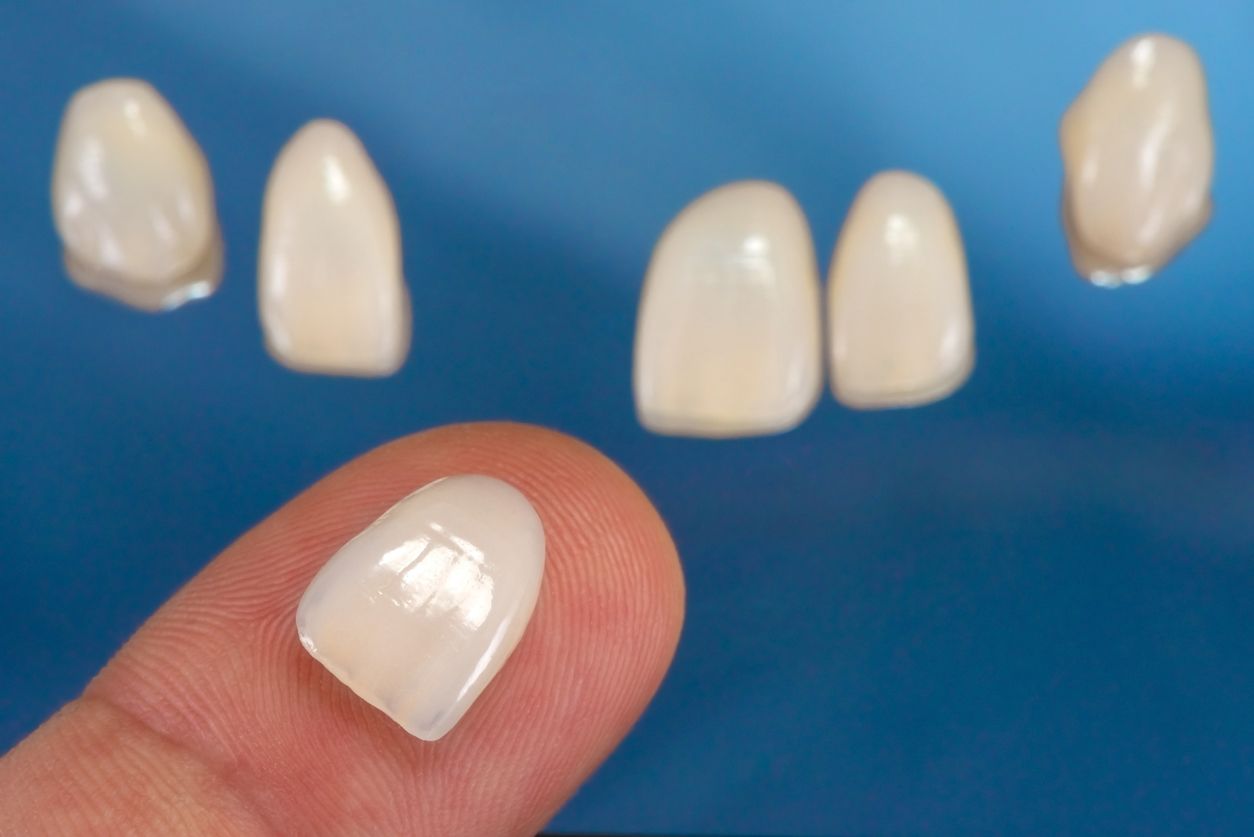 Candidates for Veneers
Veneers are among the most popular cosmetic procedures that we offer to our patients, since they can address a variety of concerns. Both options can improve the appearance of:
Chips
Cracks
Discoloration and staining that cannot be addressed with teeth whitening
Gaps
Minor misalignment
To qualify for treatment with porcelain veneers, you need healthy gums, and you should have good overall oral health. You should also be committed to a consistent oral health routine to prevent decay and other issues from affecting the stability of your veneers. If you are receiving traditional veneers, Dr. Nash will need to remove a thin layer of enamel, so you must have a sufficient amount to accommodate the restoration.
Why Choose Porcelain Veneers?
Veneers provide the benefits of teeth whitening, orthodontics, and dental crowns all in one. In addition, Dr. Nash can adjust the extent of your treatment to meet your specific needs. If you only wish to treat a single tooth, he can place a solo veneer. However, he can also transform your entire smile with a set of carefully matched and coordinated veneers.
Planning Your Treatment
Due to the personalized nature of porcelain veneers, the planning stage is incredibly important to the process. During your initial consultation, Dr. Kenneth or Jonathan Nash will sit down with you and discuss your concerns and aesthetic goals. Typically, we will also perform a comprehensive examination to ensure your teeth and gums are healthy before beginning your veneers treatment.
Choosing the Right Type for You
When designing your treatment, it is important to understand the differences between traditional veneers and Lumineers. In general, veneers and Lumineers can provide similar cosmetic results and cost about the same. However, there are key differences that can help you decide between the two options.
Porcelain Veneers
Porcelain veneers are used to address many cosmetic issues, including staining, worn enamel, and uneven teeth. Made of a durable, tooth-colored porcelain, veneers are thin shells that are bonded to the front surface of teeth, totally transforming your smile. You can have a straighter, whiter smile in just two appointments.
In general, there is no recovery time associated with porcelain veneers or Lumineers.
The first step Dr. Nash will take is to prepare your teeth by trimming a small amount of enamel from the surface. This ensures your new veneers sit properly in your smile without appearing bulky or affecting your bite. Keep in mind that once your teeth are altered, the change is irreversible. In the rare case that your veneers break, you will likely need some type of restoration to replace it, whether that is another veneer or a dental crown.
Once your teeth are prepared, we will take an impression and send the information to a dental laboratory. We will also take note of the shade that best matches your smile. Over the next week or two, skilled dental technicians will craft your veneers. While you wait, Dr. Nash may place a set of temporaries to protect your teeth from dental sensitivity. When your new veneers are finished, you will come back into our office and have your new smile permanently bonded into place.
Lumineers
Lumineers are a brand of ultra thin, minimal-prep veneers. They are similar to traditional veneers and can accomplish many of the same cosmetic results. However, Lumineers are thinner than porcelain veneers, which means Dr. Nash can place them without altering the structure of your teeth. There is no anesthetic or drilling, and since your tooth enamel is not trimmed but only lightly etched, the process is typically reversible.
Lumineers are translucent like natural tooth enamel and are very durable. The issue with Lumineers, however, stems from their ultra thin design. Because they are thinner than traditional veneers, they are more translucent and may not be the best choice for patients with extremely dark staining, as the natural tooth color may show through the veneer. In addition, patients who tend to clench their teeth may achieve better results from a traditional, thicker veneer.
Caring for Your New Veneers
In general, there is no recovery time associated with porcelain veneers or Lumineers unless you opt to receive sedation. Patients receiving traditional veneers may experience some mild discomfort after the enamel removal process. Avoiding very hot or cold beverages and foods that are chewy, hard, or crunchy can help minimize discomfort until the sensitivity wears off.
On average, porcelain veneers last about 10 years, though they can last up to 20 with proper care. There are some habits you can use to protect your veneers and improve their lifespan. You should commit to a good oral hygiene routine at home and attend regular appointments at our office. While dental porcelain is resistant to decay, the underlying structure of your tooth is not, and damage to your tooth can affect your veneer.
On average, porcelain veneers last about 10 years, though they can last up to 20 with proper care.
In addition, it is crucial to take good care of your gums with veneers. If your gums recede due to gum disease or another issue, the edge of your veneer can become visible and you will need a replacement restoration. You should also avoid placing excessive force on your veneers by biting your nails or opening packages with your teeth. In addition, minimize your consumption of stain-producing items, such as coffee, tea, and tobacco products.
Achieve a Bright, Beautiful Smile
If you want to enhance your smile, take the first step by scheduling a consultation with Nash Family Dentistry to see if porcelain veneers or Lumineers are the right solution for you. To learn more about veneers or one the other cosmetic services we offer, contact our office online or call (601) 634-1812 today.